We were planning on leaving at midnight-ish Tuesday night, well... 3:37am Wednesday morning we finally left.
At about 3:55am the left tire blows on the tow dolly. Glad I have a spare... what sucked was I didn't have a 13/16 socket for the lugs on the dolly.
Rob's brother Tim brings us a lug wrench. The spare tire that was given to me the day before turned out to be HUGE, I had to beat the dolly fender up and over an inch or so for it to fit.
Might be able to see somewhat how bent it is in this pic: (And also some in Coz's second pic)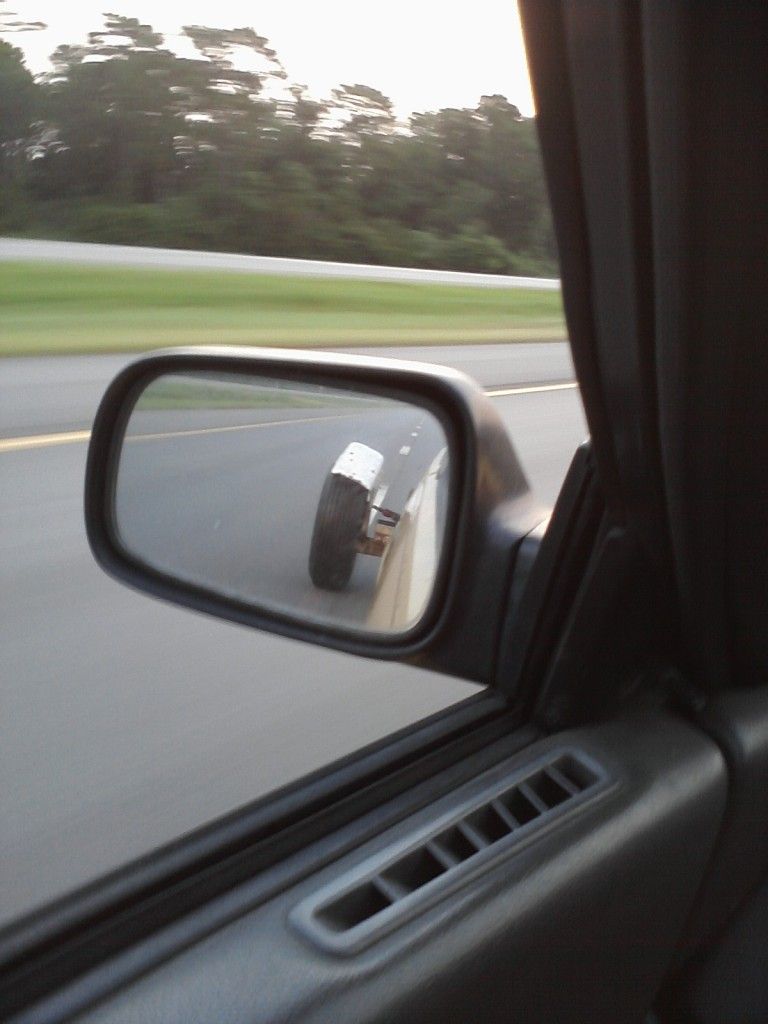 About 5:30am we're back on the road.... and hoping like crazy that the other tire doesn't die on us (they are both like 12+ years old).
I think the rest of the trip TO get the car was uneventful...Aside from our (POS) GPS not being able to locate his address.
I don't remember what time we got there (between noon and 3?), but it wasn't bad timing considering when we left.
Events here in pictures above.
Oh, have to mention this: Right as we are pulling out of Coz's neighborhood a white crx passes the opposite way, we wave and he reaches his whole arm out the window with I think a fist up like "YEAH!"
4:00pm (ours and Jeff's time) Rob and I are leaving Starbucks not far from Coz's (I think). Jeff B and our F'N GPS say's it's about 4 hours to Jeff's. (Jeff says I-75N and I-20W, no clue what the gps was thinking)
By the way, Jeff is donating a number of left over Honda parts to my hoarding problem... so we're stopping there on the way home (THANKS Jeff! Seriously, thank you)
So for almost 6 hours this stupid F'n Garmin gps takes us through like 20 different 35/45mph little highways/two lane streets that FINALLY meet up with 20w STILL somewhere inside FREAKING GEORGIA!
Once we hit 20 it was fine, except my crx is not seeming to happy to be pulling this load. Very old worn out(now) B16. (Thanks John!)
Once we get to Jeff's we spend an hour or so digging through parts and talking. (At least I think it was Jeff, this guy looked a bit younger than I remember...)
Pretty sure we left there after midnight. Stop to get gas and some guys with a 240 and something else start talking to us and wanting a picture (of the cars, not us), tripping on us towing a crx with a crx.
So we leave and are thinking of food. We take a few different exits looking for something to no avail.
Wait, we have a gps, and it should have stuff in it we can find! IHOP here we come!
So we search up an ihop, there's one 11 miles away... not exactly close but at this point we're just thankful to find something definite and open...
Turns out it's 11 miles NORTH of us, away from where we're headed.. oh well, we're not on any kind of schedule anymore. we get home when we get home.
15 min or so later we find the IHOP..... IT'S FREAKING CLOSED! WTFFFFFFFFFFFFFFFFFFFFFFFFF!~!!!!!!!!!!!
We consult the gps again, it says there's a Shoney's like 1 mile away... Cool.
We start driving again.....Guess what? It doesn't exist anymore!!!
I'M beyond pissed now, Rob's like "Dude, it's ok, we'll find something" Needless to say that at this point I am wanting to do much Harm to this gps....
So we settle for a Whataburger near there, where there's some unusually polite employees (fast food people where we live HATE you for being a customer, and their demeanor SHOWS it, so this is strange to us).
I got some (really thin) fries and a drink. At this point this is the most I've had to eat since breakfast Tuesday afternoon (3pm, which is morning for me). Other than that I had a bag of Ruffles chips and a flour tortilla... and a shitload of coffee throughout the entire trip.
Back on the road, and I've probably been awake for something like 36 hours now. Oddly enough I'm not dead...yet.
Most of the rest of the drive was spent fighting to keep my eyes open. Several times we pulled off and I tried to nap, to only end up getting a minute or two sleep each time. My eyes wanted to close, but only while driving... f'n great.
So a number of hours later we're back in Louisiana and like 25-30 miles from home. We now hit bumper to bumper traffic from an accident or something AND it starts to rain some... Very not cool!!!! I have shit tires and there's a reeeeaallly steep and HIGH overpass we need to climb coming up soon. Between the tires and the way the B16 is struggling I just KNOW this thing isn't going to make it up if we get stuck in traffic and wet road.
Thankfully the traffic thinned out just enough to maintain a steady speed and the rain slacked off mostly as well.
10am Thursday morning we make it to Robs. Unload the car, ditch him, go home, unload the tow dolly, post above comment, take shower (43 hours now of being awake ), lapse into a coma for 14 hours.
Woke up at near 1am and stayed awake for several hours, back to sleep for like 6 more, and then late for work Friday evening. I feel slightly human again.
Oh, my car feels fairly normal again, I guess it was just mad at me. I though it was done for.
I think that was about it.... Rob, did I miss anything?